This photo courtesy of Gibson Blanc Photography
A Red, White & Blue display unlike any other …a nod to upcoming Royal celebrations.
Thank you to Andy Crabb, MD of the Porsche Centre Mid Sussex, for kindly agreeing to host our event at their magnificent premises. Everyone who took a test drive in one of the five electric vehicles available on the day came back truly enthused by the experience. On behalf of everyone who attended we'd like to thank the entire team, including reception and marketing and a big thank you to those test drive staff.

In the following photos you'll see images I took on the day, although not up to Gibson's standards…There have been a lot of LinkedIn posts showing more of the special vehicles on display, with lots of beaming faces!
 
Great Conversations
Lots of great conversations as the event kicked off with light refreshments provided by Porsche Centre Mid Sussex.
A fabulous venue for our event, light and airy and surrounded by exceptional examples of brilliant engineering.
Our events always start like this, a half hour of informal networking.
 
Our biggest ever networking event  
This proved to be our biggest and most popular monthly networking event to date, with nearly 60 in attendance, including many unexpected last minute bookings.
Many familiar faces, several of our new members and a couple of non-members who came along to see what all the fuss was about.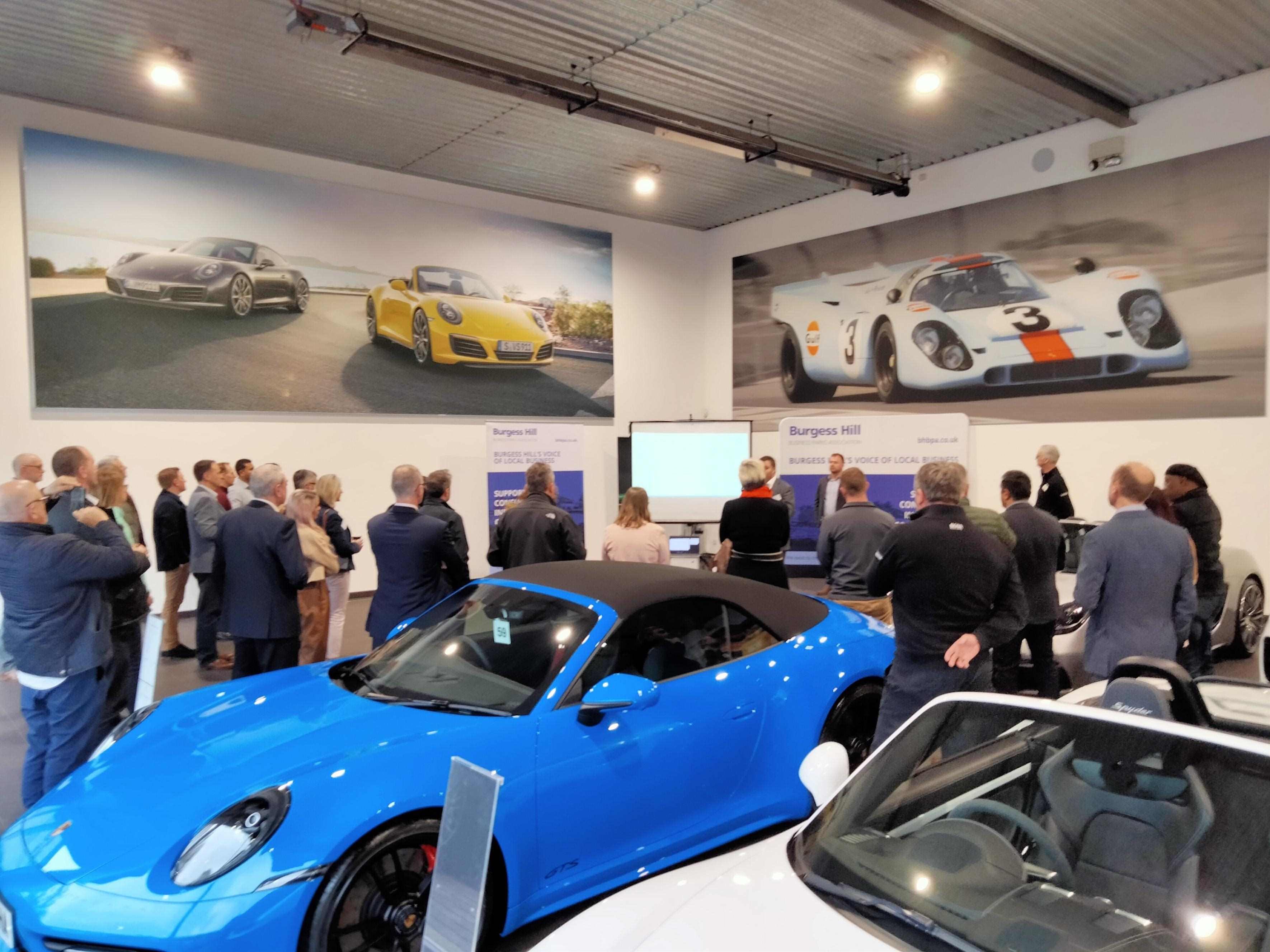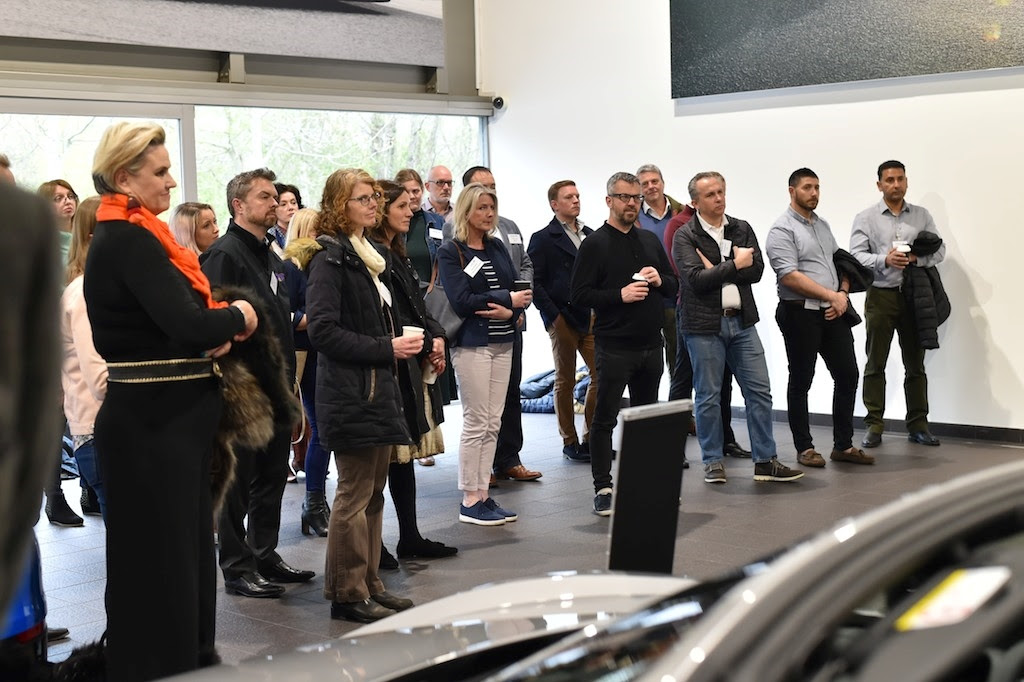 News about Porsche Centre Mid Sussex
Andy gave us a short introduction, explaining the continued growth of Porsche sales and how their electric variants are proving extremely popular.
He also mentioned that they will be moving in the next couple of years.
Still very local to Burgess Hill, the new Porsche Centre Mid Sussex site will be nearly three times larger than the current showroom on Innovation Drive.

There then followed a presentation from Carpenter Box.
If you would like to see that presentation in full, please see the email contacts below.
Tax Benefits of Electric Vehicles
Here are some of the salient points from the Carpenter Box presentation.
Still no Benefit in kind on work charging or installing infrastructure – full VAT recovery and tax relief given to the company.
Company car tax on electric vehicles is 2% (Benefit in Kind – P11D) – does not apply to partners in a partnership or members in an LLP – planning opportunity?
Recover 50% of VAT paid on the car and 100% on maintenance packages.
The advisory electricity rate (qualifying business mileage for company cars) increased to 9p/per mile from 1 March 2023. Normal rates apply for employee own cars.
100% FYA on NEW electric cars purchased before 1 April 2025.130% super deduction for electric vans ends on 31 March 2023 – important date is delivery date. 100% FYA thereafter.
Vehicle Exercise Duty – All electric cars are exempt until April 2025.

EV Salary sacrifice schemes
Becoming more & more popular.
Nice way to retain & attract staff.
Helps carbon footprint – ESG reporting.
Can be offered at no cost to the business or even a cost saving (due to Employers NI).
But tailored approach needed – lots of options and considerations…

For further information;
anthony.davies@carpenterbox.com
chris.reeves@carpenterbox.com

This photo courtesy of Gibson Blanc Photography
Here smiling for the lens, event delegates Samantha Norgate from local charity Kangaroos and our newest member, Kelly Harding from Bella June Flowers.

Our next event
We had a lot of great feedback after Tuesday's event. You'll find details of another great networking opportunity further below. Again, our May event combines some fun activity and an expert presentation to get you thinking about your business branding.
Book early to avoid disappointment.