The Hog Roast went down very well!

Many thanks to Dee & Lance and the team at The Woolpack for puttting on such a great spread for our sell-out event. Some great conversations and lots of networking.
All the badges laid out ready…

Dan Billington and Jonathan Lea are listening and reacting to a playback of a new radio advert for MCL Telecom that Sarge Hussain has just played, it's going out soon on More Radio.
This group clearing enjoying the sun, food and great conversations. Neil Tomlinson, Gill Evaroa and James McKinnie from new members Basepoint Haywards Heath and BHBPA long term members Warrick Francis and Paul Dallibar

It was great to see the HR team from one of our larger members, Edwards Vacuum, attending. BHBPA has a Working Group looking at Equality Diversity & Inclusivity issues and many of our multinationals and larger SMEs are involved with this. In the foreground Abi Birch from YourWellnessHub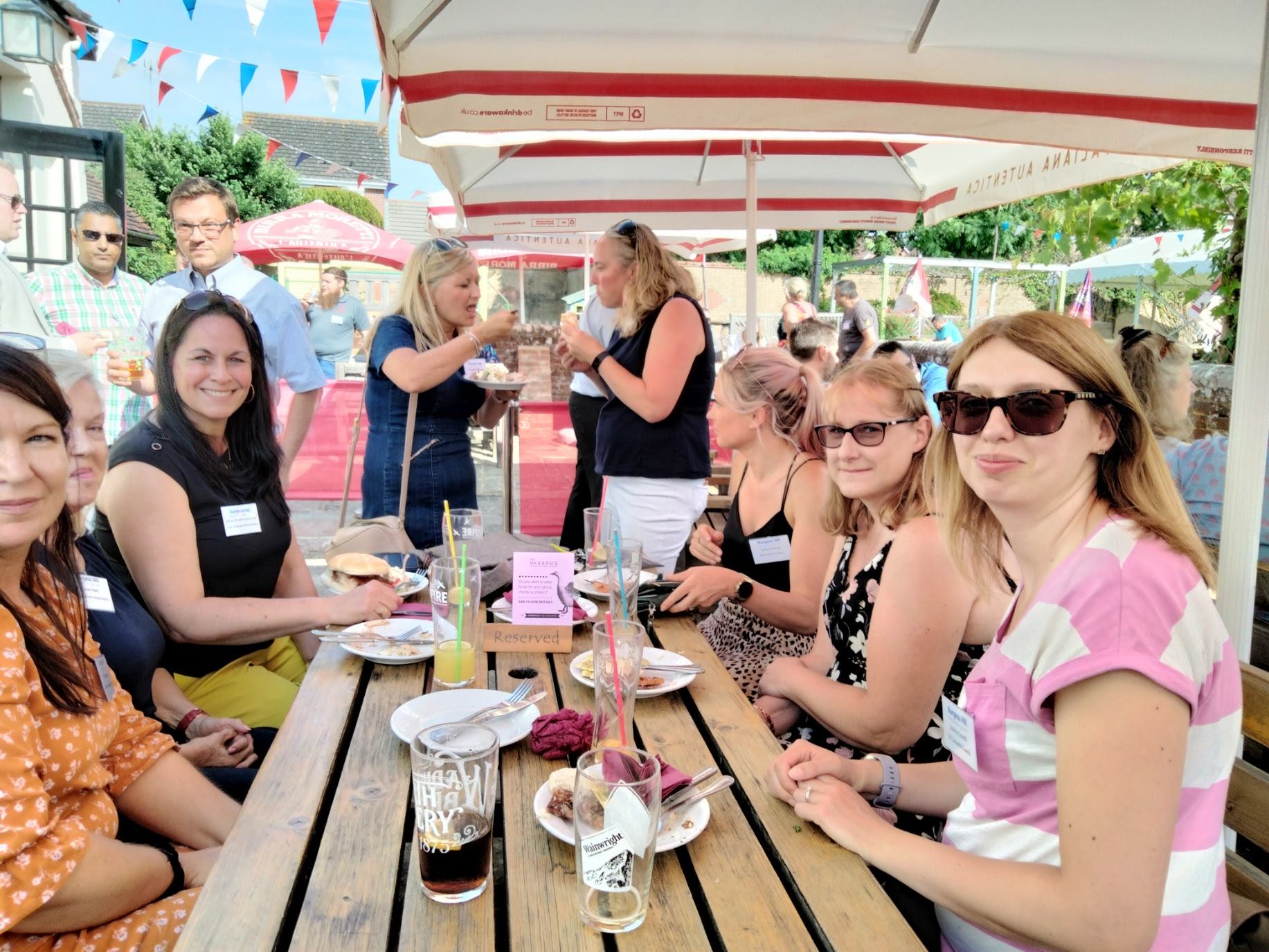 Emily Darnell, Susan Fleet, with her new business partner Helen Underwood-Lewis, Danielle Shillaker and Alix Bell (both standing in the background), Kelly Harding, Nicola Pont and Joanne South.

Eight hours in the cooking this was an impressive feast, laid on by Lance with the main attraction provided by Lance's supplier Handross Butchers. Here's one of Lance's team tending the huge roast.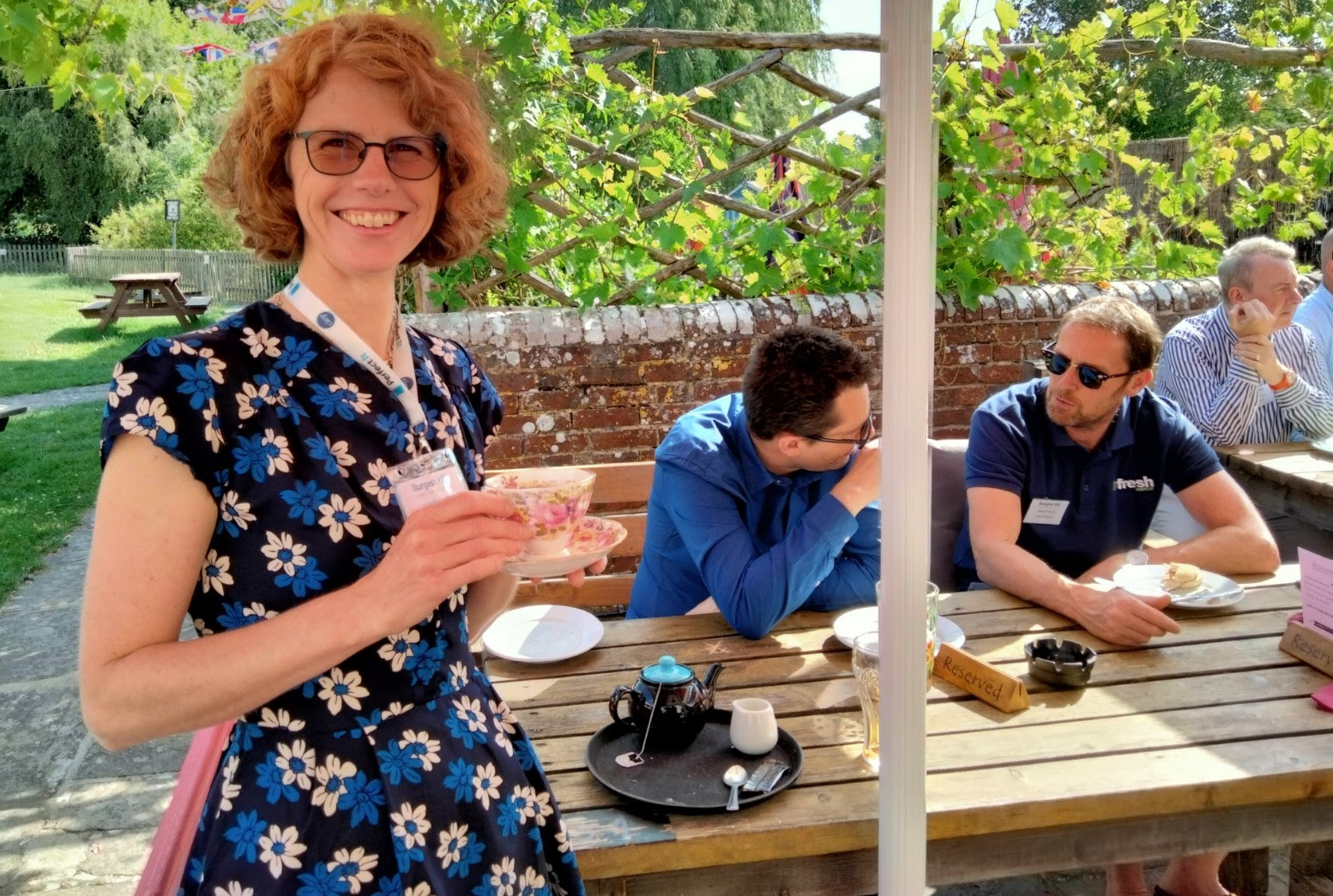 Mandy Anstee enjoying a genteel cup of tea. Meanwhile Wes Earp and Steve Powell are deep in discussion. When Steve is not managing his own business Fresh Display, he acts as Marketing Officer for BHBPA. I wonder if they are discussing the various improvements to the BHBPA website being worked on at present by Preview.

Alix Bell and Mark Vaeson smile for the camera. Alix was explaining how The Escape Youth Club in Burgess Hill is waiting on final approval for the use of Park House.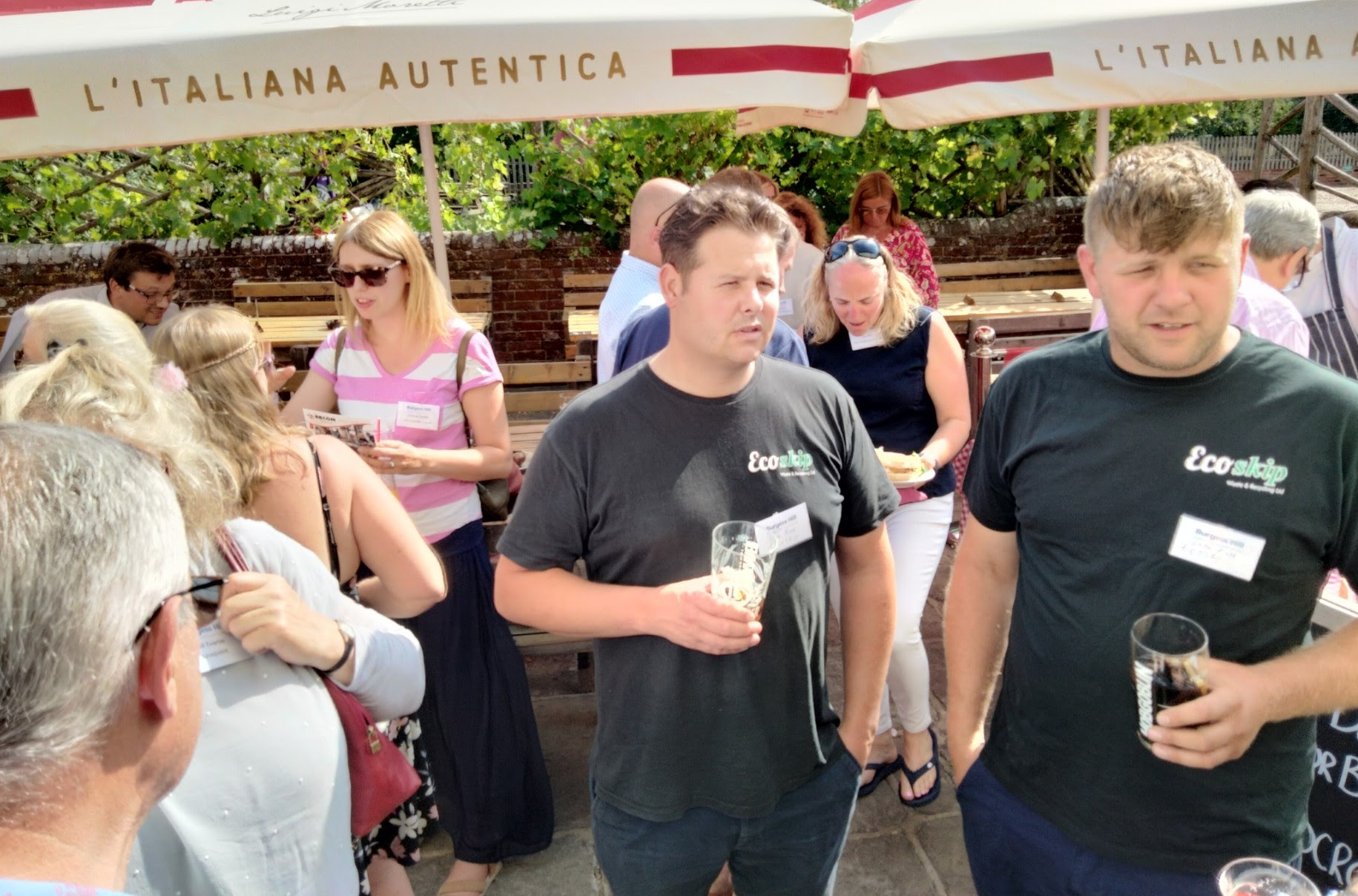 Great to see some of our newer members in attendance. In the black tee-shirts, Lee Reed and Luke Field from Eco Skip. They explained to me the exciting growth of the company over the last 12 months and their future plans in Burgess Hill.

This event was one where it's all about the networking, in convivial surroundings, with no presentations, just some great food and a big crowd with 60 booked.