While the 20th century most certainly belonged to physics, there is a growing consensus that the 21st is biological. We now sequence the genes of people, animals, plants, tumours, and viruses as a matter of routine.
BHBPA has several members operating in the Life Sciences sector. Last week I had the pleasure of meeting Wayne Channon. He's the Chairman of iosBio, originally based in Burgess Hill with its sister company (Cell4Life) they recently moved to new premises in Haywards Heath. It's a relatively small outfit employing 18 staff in very well-appointed offices and laboratories.

A New Paradigm
Among the current crop of biotechnologies that could take medicine to another level, iosBio stands out as a potential disruptor on a massive scale. They are currently developing an oral vaccine platform that could deliver treatments for Zika, gastro-intestinal disorders, cancers and importantly, Covid, in a capsule form that is thermally stable.

Let us put that in other words. The current worldwide pharmaceutical product supply chain is structured predominantly on reliably delivering, at huge cost, vaccines at sub-zero temperatures or beyond. Big pharma has little or no incentive to change that. Consider this, if 50% of a vaccine fails to be delivered correctly within this 'cold chain', the drug companies themselves haven't lost out, they just get another order to make up that 'wastage'.

Consider the operational difficulties in delivering vaccines across the developing world, it's just not viable in much of Africa, Asia and South America. The approach taken by iosBio is shifting the  paradigm away from the 'cold chain'. An effective vaccine delivered in capsule form does not need special storage conditions.

Started in 2006 by Dr Jeff Drew PhD iosBio aimed to license its technology to big pharma. The company changed direction in 2017 to make its own vaccines and supported by a £214,000 grant from Innovate UK, they successfully created the first thermally stable oral vaccine targeting the Zika virus. That vaccine has now passed pre-clinical trials in non-human primates. Following that success, they won a further Innovate UK grant for just over £2m to make a pharmaceutical grade Zika vaccine.




Wayne Channon explaining the process of creating a vaccine in capsule form, behind him you can see a R&D Lyophilizer. This is essentially an R&D Freeze Dryer used for small scale lyophilization in protocol development. Weighing nearly a tonne, it was one of the reasons they ultimately decided on their current location. At other sites they reviewed, this machine was just too heavy for stairs and lifts.

The onset of the Pandemic
In January 2020, the team received the DNA coding of the Covid virus. The government allowed them to repurpose some of the funds from a Zika vaccine grant and they began work on a thermally stable oral vaccine for Covid.

For influenza, 80% of the costs of the vaccination programme derive from administering inoculations with trained staff. None of that 'vaccination infrastructure' is required with a capsule-based treatment. There is also no need to keep the drug at sub or ultra-sub-zero temperatures, as required by all the current vaccines. This also negates high wastage rates as seen with the current crop of vaccines. As Wayne explained, a thermally stable oral vaccine could be delivered quickly and efficiently with a national postal vaccination programme.

That is what makes IosBio so special, and why it has attracted partnership with major global players and significant investment from venture capitalists.

 
Sunil, the Laboratory Operations Manager, kindly explains for me,  in layperson terms, what all this equipment does to create their development vaccines.

As Wayne explained, their approach also offers up better efficacy. Consider how most viruses are caught, through the mucosal and gut membranes, this explains why 70% of all our immune cells are mucosal.
The iosBio's approach is to harness those membranes to deliver its vaccines. Working on this principle, the company has multiple patents; for example, making proteins show up better on the surface of a cell for faster targeting by immune cells.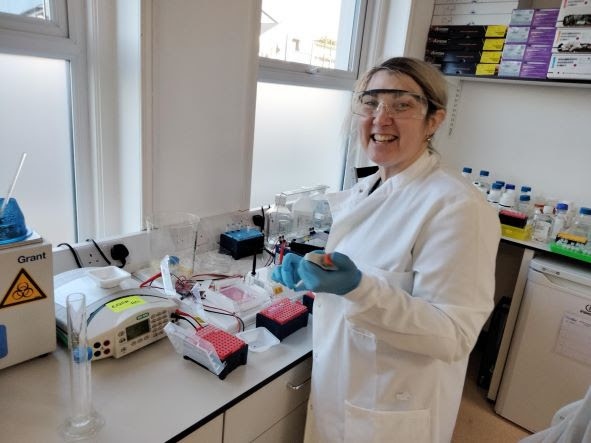 This improves and speeds up immune reaction which in turn means greater efficacy at lower dosages of a vaccine, offering reduced side effects.
Meredith busy preparing assays, she explained that one of the reasons she joined the company was because of the profound impact their work can have. She also enjoys the creativity she's allowed.
Building a pipeline of safe and effective oral vaccines for infectious diseases
Wayne has huge experience from his days in the tech sector, taking promising technologies and running with them, building businesses employing over one thousand staff. However, many biotech innovators find their technologies acquired in early development stages, following pre-clinical trials in animals.

Wayne believes their vaccine delivery platform offers the world a great leap forward in treatments for a whole raft of diseases. He wants to see how far they can take this technology. Current development work is focusing on a combined vaccine targeting four strains of flu together with a single strain of Covid called FluVid.

Following our chat, I toured the iosBio laboratories. I spoke with technicians and scientists. These are staff that might be supervising experiments late into the night.
As Wayne commented earlier, in the life sciences sector, normal working hours do not exist. The staff shared a common belief that this is a company that could change the world for the better. I was honoured to have shared their valuable time.

© Richard Cox 2022